BUILD YOUR OWN TRACK PACK!
Bundle event dates and save; you pick: 7, 10, or 14 days!
Our 2022 season pass gives you 29 full HPDE days at 7 different tracks!
RULES & REGULATIONS:
By purchasing a Track Pack you are indicating that you have thoroughly read, understood and agree to all Policies, Rules & Requirements listed under the "Drivers" menu at the top of our website navigation bar.
Read all rules and make sure your vehicle is qualified and that you have adequate safety equipment because all fees are strictly non-refundable as per our Refund, Purchase, & Cancellation Policy.
If you have any questions about your vehicle or safety equipment meeting requirements, email events@autointerests.com PRIOR to registering for an event!
DEADLINE: 

DECEMBER 17, 2021
Track Packs must be purchased in full, or the first payment made by December 17, 2021!
COST:
FAST PASS holders save 10% off these prices!
MEMBERS save 5% off these prices!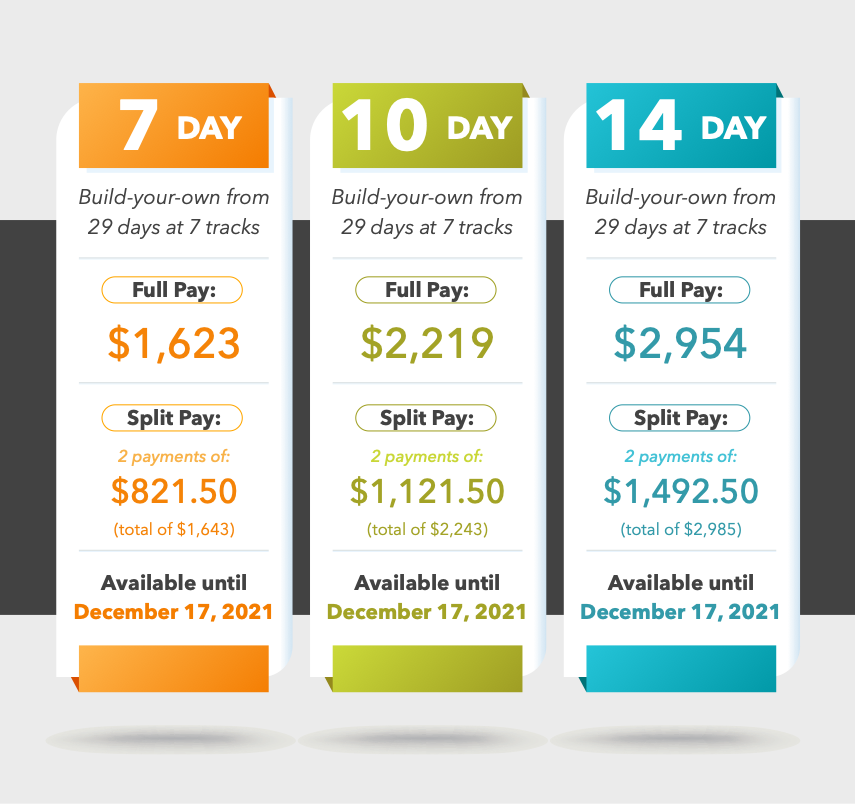 CHANGE OPTION:
Change options are available for 2022 Track Packs to offer flexibility with our large season of events.  These give you the right to a specified number of date changes with your Track Pack.  Purchasing a change option does not guarantee availability for any particular run group/date.  Change Option holders DO get priority wait list access (second only to Fast Pass holders).  Fast Pass discounts can be used toward the Change Option. Change options do not allow for transfer/extension into the next year/season. Change Option must be purchased at the time of Track Pack purchase (Full or Payment #1) and can not be added later.
You may purchase an up-front Change Option with your Track Pack. Date changes are subject to availability for your particular run group. (If you are a Fast Pass holder, you jump to the top of any wait list.)
3 date changes - $99
4 date changes - $129
5 date changes - $149
Any changes beyond the number purchased (or if a Change Option is not selected at time of purchase) will incur a $75 fee per change, reduced to $50 for Members and Fast Pass holders.
HPDE PROTECTION PLAN OPTION:
FAST PASS holders save 50% off HPDE Protection Plans!
MEMBERS save 25% off HPDE Protection Plans!
Pick 14 days: $499
Pick 10 days: $399
Pick 7 days: $299
This will be the most convenient and lowest cost way to add an HPDE Protection Plan covering your Track Pack event dates. HPDE Protection plans will be available on a per-day basis later, however a standard per-day rate will apply. Make sure you have thoroughly read and understand the HPDE Protection Plan terms, conditions and coverages.
HPDE Protection Plans only transfer if the Protection Plan AND Change Option were purchased at the same time in your original order. Otherwise, if you change a date the change fee will be incurred and the Protection Plan for the changed date will be forfeited. If you wish to maintain HPDE Protection coverage for your new date/transfer, then it must be purchased separately.
Instructed Run Group Surcharge:
Instructed run groups are subject to a surcharge to cover program costs, for more information about this, please visit this link.
These fees are significantly discounted when registering for a Track Pack and presume some level of level advancement throughout the season.
TERMS:
Fast Passes and promotional value gift certificates may be used towards the Track Pack.  Balances not paid by their due date result in forfeiture of the payments paid and the associated reserved spot at the events.
When you purchase a Track Pack, date changes will incur a $75 fee (reduced to $50 for Members and Fast Pass holders) unless you pre-purchase a Change Option.  All change requests are subject to availability in your appropriate run group for each date (option holders get priority access and Fast Pass holders jump to the top of any wait lists).  There are absolutely no refunds or store credits available for Track Pack purchases for any reason.  However, if an HPDE Protection Plan was purchased, the driver is eligible for the coverages provided by the HPDE Protection Plan as outlined in its terms and conditions.
Track Pack purchases are only valid for the driver named at initial purchase.  The event dates may not be split up among multiple drivers, or otherwise transferred or "shared".
If you sign up for a single day out of a 2-day event, and decide to add the second day later (pending availability), the second day will cost the then-current one-day rate.
In the highly unlikely event that a date is canceled by AutoInterests, you will receive a pro-rated (choice of) refund or store credit (less and discounts) for the canceled date. Any pro-rated refunds/credit amounts will be calculated by dividing the actual price paid by the total number of Track Pack dates to determine a per day rate.

TO PURCHASE OR SUBMIT PAYMENTS:
Please complete the appropriate registration form linked below, then click on "Register".  
If you have a Fast Pass or Membership, your discount will be automatically applied.
If you have a gift certificate, credit or coupon code, it MUST be entered at checkout.  Prices can not be adjusted once your order is submitted.  If for some reason your code(s) do not seem to be working, email events@autointerests.com BEFORE completing checkout.