Attention, READ:
(updated June 5, 2020)
---

---
PADDOCK LAYOUT AND ARRIVAL MAP: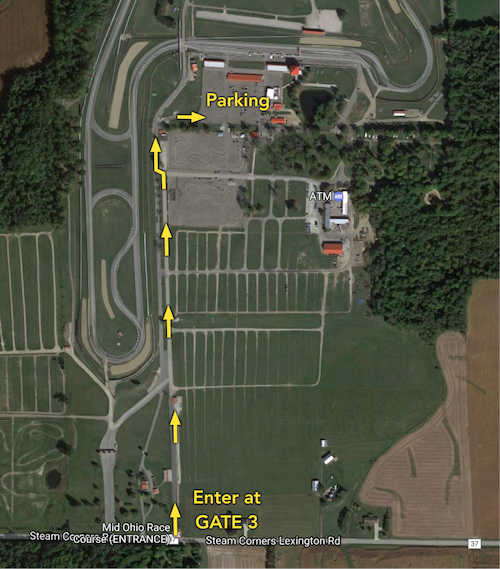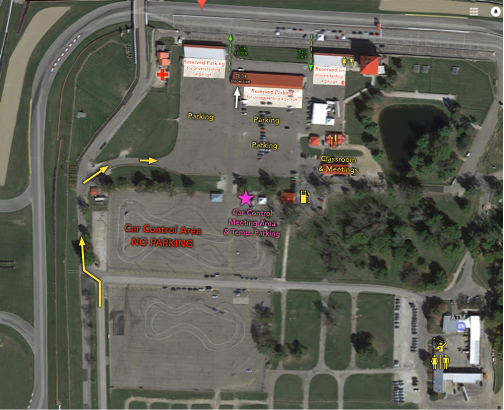 Track Address
Mid-Ohio Sports Car Course
7721 Steam Corners Rd.
Lexington, OH 44904
Garage Rentals
Check this page for event specific links to garage rentals:
2020 rentals coming soon...
Hotels
Official Hotel:
Quality Inn Suites Conference Center
1000 Comfort Plaza Dr.
Bellville, OH44813
2020 rate/reservation info TBD...
Camping
May 18th: 

NO CAMPING
June 12-14 - TBD... check back at a later date
August 24 - TBD... check back at a later date

Sept. 28: 

NO CAMPING
If camping is available, tents and RVs are welcome, but there are no power hookups available - you must be self-sufficient. 
Early Entry
Early entry/trailer drop off (if available) will be posted below:
2020 trailer drop info TBD, check back at a later date
Concessions
Mid-Ohio concession stand is cash only and typically open during lunch hours only.  Plan to bring cash for concessions, or pack a lunch.  There aren't many options for food close-by the track.
JUNE 12, 2020: NOT OPEN
JUNE 13-14, 2020: OPEN