As a driver's education provider, we are continuously trying to grow and improve this sport, and we accomplish this by educating new drivers.  We strive to provide an exceptionally safe on-track experience to those who are just beginning, as well as for experienced drivers. Our instructors are an important part of our driving program, and we are always looking for qualified and effective instructors.
We've seen that good drivers don't always make good instructors, and good instructors aren't necessarily great racers. Often times, a highly successful instructor is one who is a great communicator, or one has experience in education or training outside of the HPDE world. More importantly, great instructors have a passion for the hobby! An instructor looking to give back to the sport is far more successful and effective than one who is only pursuing comp track time. While instructing isn't for everyone, there is a considerable amount of fulfillment achieved from sharing knowledge, experience, and insight with new drivers. 
AutoInterests expects our instructors to perform to the highest standards. We want our instructors to promote smooth and SAFE driving; not fast or aggressive driving. Our instructors shall follow our procedures, and uphold all safety guidelines. Instructors are empowered and expected to immediately address anything that may compromise safety and escalate any such matters to our management as needed.
We expect our instructors to be on time to all scheduled meetings.  They must be prompt when meeting drivers at grid, and they may occasionally be asked to assist in tech inspection. While in student vehicles, instructors must be attentive to the student's attitude and emotional state, as well as the car's condition during the session, all while positively promoting skill development.
Technically, we expect our instructors to:
-Be able to consistently explain repetitive driving cues to students while in-car ("on the brake", "off the brake", "turn in", "apex", "on the gas", etc.).
Be able to focus on coaching a single element (ie. how to take a specific corner at a given track) 
Notice and correct common Novice behaviors (failing to watch mirrors, death grip, hand shuffle, seating position, etc.)
Prior to going on track, instructors shall try to extract information from the student, such as their expectations, car modifications, tire types, etc.
Use any extra, non-driving time spent with the student to review safety, flags, and other procedures
Following an on-track session, give a brief review of the session to the student, allowing them to ask any questions they may have
Think you've got what it takes to be an instructor? Read on to find out.
Instructor Requirements
Candidates must have driven at one of our events prior to applying to be an instructor. This ensures that the candidate understands how our specific events are operated and knows what to expect as an instructor.
Candidates are expected to have completed a minimum of 30 HPDE events, of which, at least 15 of these events must have included in-car instruction. 
Minimum of 2-4 years overall experience.
Diverse range of experience with various organizations, venues, & vehicles.
Two references from past instructors and/or current chief instructors.
Along with being an experienced driver, instructors must be able to communicate effectively; this includes coaching, motivating, and disciplining.
Instructors MUST have experience at the track they will instruct at. An instructor's first visit to an unfamiliar track shall be as a participant, registered as a driver. Once acquainted and comfortable with the track, an eligible instructor will be permitted to instruct at that track on future visits.
Instructors are required to have a Chatterbox or other in-car communication device.
If you do not meet the above requirements, but feel that you are qualified to instruct, please fill out the application and our chief instructors will review it and take your experience into consideration.
Application / Approval Process
Instructor candidates must meet the minimum required criteria, and fill out an application on our website. Upon reviewing your application, you will be notified of your status as an instructor. If you have been approved to instruct, you will receive more detailed information on how our instructor program works, and what benefits you will receive.
A driver that meets the minimum criteria, but has no prior instruction experience can become qualified at an AutoInterests event. The candidate would attend an HPDE registered as a driver, and receive an evaluation from one of our chief instructors during the track day. This evaluation process MUST be approved and pre-arranged in advance – do not expect to simply register, show up, and be evaluated. Please contact us at events@autointerests.com if you fall into this category and are interested in becoming an instructor.
Instructor Program: Levels, Discounts & Advancement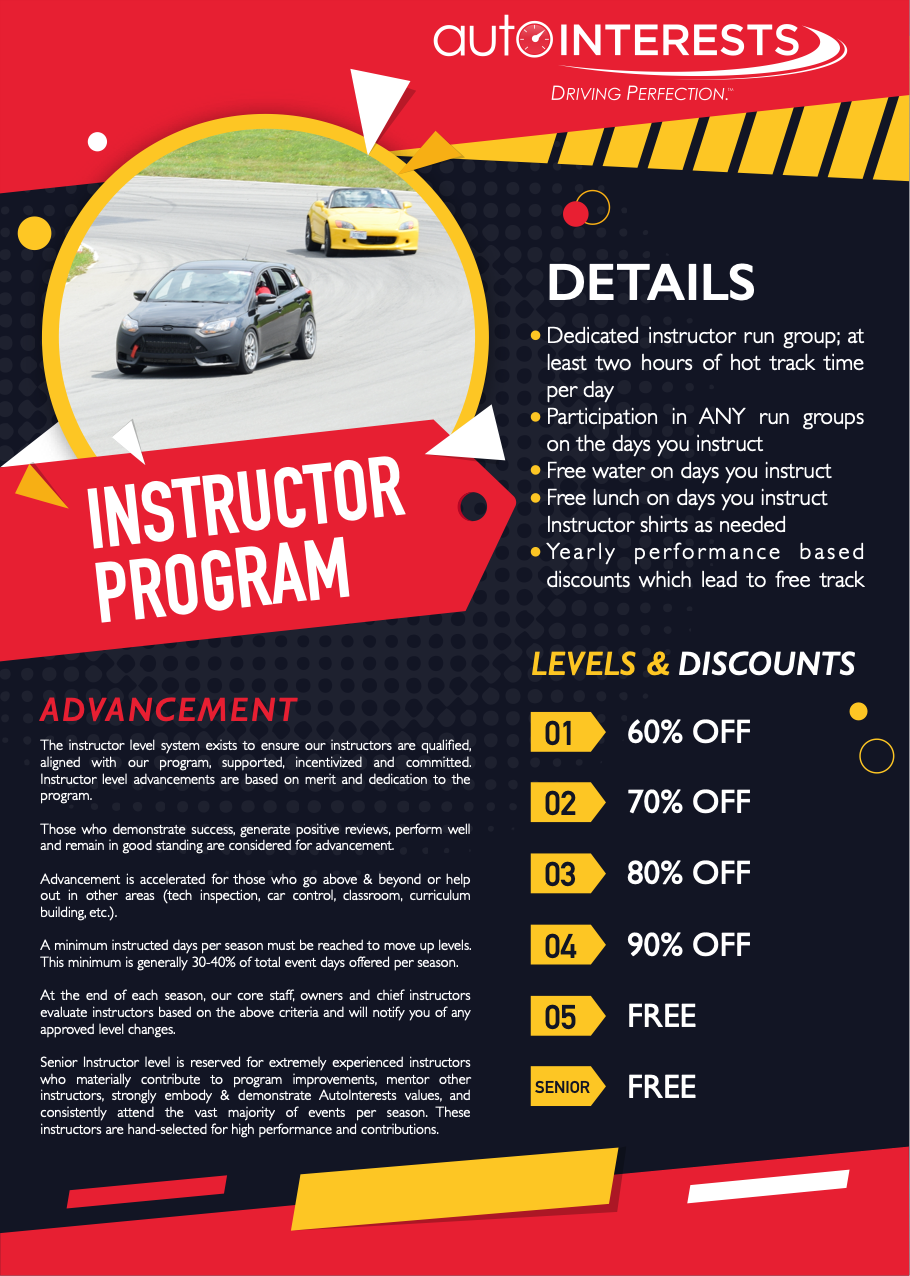 Mutual Feedback
We utilize student surveys to continually evaluate instructor performance (in car, in class, and event feedback). It is imperative that our instructors continue to perform as required, and we use student feedback in determining this. 
We provide a survey to all instructors in which they must leave feedback about their student. This tool is very important in helping the student improve, as well as validating requests to move up to the next run group level. 
Suggested Readings
The HPDE Instructor Manifesto – By Ross Bentley
Instructor Candidate Manual – By Richmond Shreve
Going Faster – By Skip Barber Racing School
The Physics of Racing Series – By Brian Beckman
How to Make your Car Handle – By Fred Puh
Bob Bondurant on High Performance Driving – By Bob Bondurant
Application
To be considered, please fill out our application, by clicking this link.
Anybody wishing to become an instructor or any third party driving coaches/instructors who wish to conduct activities at any of our events must complete an application.
Please allow at least one week for applications to be reviewed by our chief instructors as time must be permitted for any questions, reference checks, etc. 
If you believe you already have an application on file with us, please inquire by e-mailing events@autointerests.com and we can let you know if you are already an approved instructor.