SUMMIT POINT CIRCUIT:
Summit Point Circuit is a 10-turn, 2.0-mile (3.2 km) road course that features a 2,900-foot (880 m) main straight. This original circuit opened in 1969 and did not include the "Carousel", presently denoted Turns 6 and 7. In the original layout, Turn 5 was a ~90 degree left-hander leading to a 90 degegree right-hander at the entry to what is now denoted Turn 8. Therefore, the original layout had 8 turns (or 9 depending on how you counted them). The "Carousel" was added in the early 1970's. The Summit Point Circuit was repaved in the October 2017.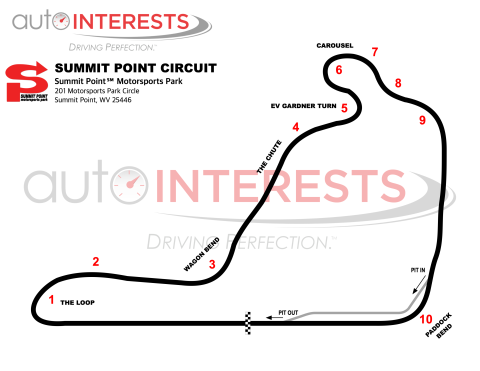 Track Address
Summit Point Motorsports Park
201 Motorsports Park Cir.
Summit Point, WV 25446
Garage Rentals
Sorry, there are no garage rentals available at Summit Point.
Hotels
Lodging options are available on Summit Point's website here:
Camping
The Shenandoah paddock offers plenty of paved parking, electric hook-ups, and a clean bath house with hot showers.
Electric spots are $15/day and can be paid on site. During overnight hours, electric can be purchased at the gate. Spots are not reserved in advance, however there are over 100 hookups in the Shenandoah paddock, including 2 electric car hookups and 2 Tesla 100 amp hookups. 
General Camping information is available on Summit Point's website here:
Early Entry
Early entry (if available) will be posted below:
April 24-25 - Shenandoah Circuit
July 30 - Jefferson Circuit
July 31-Aug. 1 - Shenandoah Circuit
Aug. 2 - Summit Point Circuit
Concessions
Concession stands are currently CLOSED due to COVID. Updates will be posted here as they are available.