We will be running the Grand Full Course - 3.15 miles, 2300' straight, combines maximum technical turns with 2 high speed sections.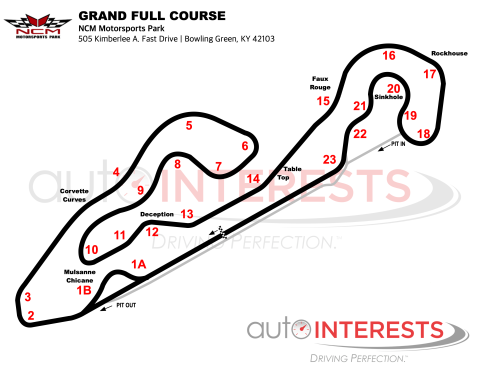 SOUND LIMIT: 103dBA!
For more information on the sound limit, watch this video provided by NCM.
A sound level instrument (meter) that meets American National Standards Institute (ANSI) S1.4-1983 Class 2 or better shall be used. The primary maximum for MSP Motorsports Park shall be a sound pressure level of 103dB "A" frequency weighted (dBA) measured on the fast response setting at 50 feet (+/- 2 feet) from the edge of the track pavement, and/or artificial markers indicating track edge. All sound readings shall be truncated to the lower whole number. (Anything after the decimal point is ignored.) All vehicles are required to have mufflers.
Track Address
NCM Motorsports Park
505 Kimberlee A. Fast Drive
Bowling Green, KY 42103
Sound Limits
Track participant vehicles are limited to 103 dBA measured 50 feet from the edge of the track.
This sound limit is strictly enforced. Any vehicles exceeding this sound limit will be ordered to leave the track until appropriate corrective measures are taken to bring the vehicle into compliance.
Garage Rentals
Garage rentals are available at NCM Motorsports Park.
Hotels
Camping
AutoInterests has reserved group camping for our event so overnight camping is permitted at no additional charge to drivers (unless you opt to purchase an electric spot on site).
Early Entry
Early entry if available is as follows:
August 8-9, 2020
Permitted to enter on Friday August 7 at 6:00pm
Concessions
NCM Motorsports Park has on-site concessions and food available for purchase.
Fuel
The NCM Motorsports Park offers an ExxonMobil fueling station on-site.
The offered octanes are:
87, 89, 93, 98, 100 (Unleaded)
110 Leaded
Diesel Fuel