SHENANDOAH CIRCUIT:
The Shenandoah Circuit is a 2.2-mile road course that first opened in 2005. It is a no holds barred technical challenge that will take years for drivers to master. The track contains a dimensional replica of the Nürburgring-Nordschleife's famous banked Karussell turn complete with 20 degrees of banking.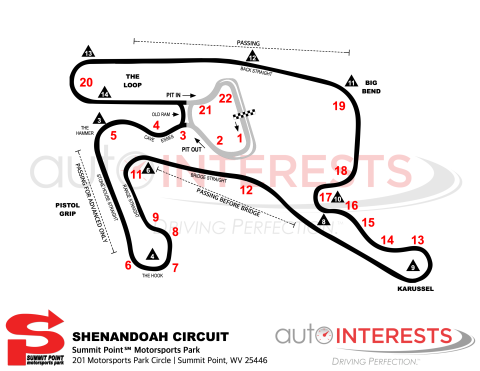 Track Address
Summit Point Motorsports Park
201 Motorsports Park Cir.
Summit Point, WV 25446
Garage Rentals
Sorry, there are no garage rentals available at Summit Point.
Hotels
Lodging options are available on Summit Point's website here:
Camping
The Shenandoah paddock offers plenty of paved parking, electric hook-ups, and a clean bath house with hot showers.
Electric spots are $15/day and can be paid on site. During overnight hours, electric can be purchased at the gate. Spots are not reserved in advance, however there are over 100 hookups in the Shenandoah paddock, including 2 electric car hookups and 2 Tesla 100 amp hookups. 
General Camping information is available on Summit Point's website here:
Early Entry
Early entry (if available) will be posted below:
April 24-25 - Shenandoah Circuit
7/31 - Jefferson Circuit
08/01-02 - Shenandoah Circuit
08/03 - Summit Point Circuit
Concessions
Shenandoah concession stands are currently CLOSED. 
Chez concessions on the Summit Point Main Circuit are open, HOWEVER you are required to use the gravel road to access these concessions. DO NOT enter the actual main circuit paddock area!
Shenandoah is the green circuit. Follow the YELLOW path to access Chez concessions: